Award honors those who exemplify superior leadership, service and academics.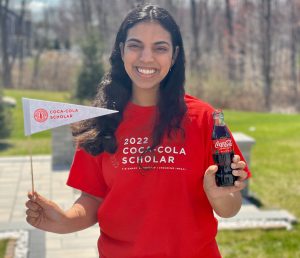 Senior Meghana Bhupati has been recognized as one of the country's most outstanding high school leaders by the Coca-Cola Scholars Foundation and has been awarded a $20,000 college scholarship.
As a member of the 34th class of Coca-Cola Scholars, Meghana exemplifies superior leadership, service and academics and is a change agent who is positively affecting others in our community.
Meghana is one of 150 selected from more than 68,000 applicants from across the country to receive this scholarship.
"I never dreamed that I would become a Coca-Cola Scholar and join such an incredible family of change-makers," Meghana said. "Although the application process was tough, I persevered because like the Coca-Cola Scholars Foundation, I believe that leadership and service are the keys to building better communities. With the funds and network that I have been granted, I hope to study healthcare policy and champion equitable access to quality healthcare. I feel so honored and can't wait to celebrate this accomplishment with the other Coke Scholars soon!"
In addition to receiving college scholarships, students selected as Coca-Cola Scholars have the opportunity to network, collaborate and form friendships with other scholars to make an even greater impact together. Recent alumni initiatives include a podcast called The SIP and a coaching program that partners seasoned alumni with first-year scholars as they transition to college. Every five years, all alumni are invited to the Coca-Cola Scholars Leadership Summit.
Congratulations Meghana on this impressive accomplishment!
A joint effort of Coca-Cola bottlers across the country and The Coca Cola Company, the Coca-Cola Scholars Program is the largest corporate-sponsored, achievement-based scholarship program in the United States. With the addition of the 2022 class, the Coca-Cola Scholars Foundation will have provided more than 6,450 Coke Scholars nationwide with over $75 million in scholarships over the course of 33 years.