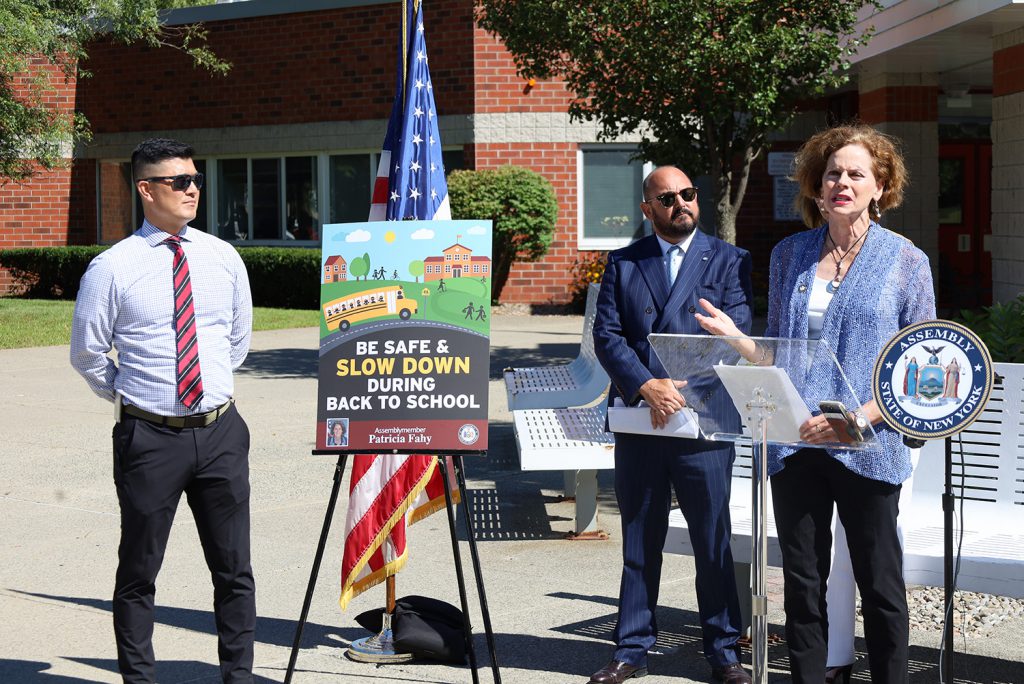 The first day of school is just around the corner, meaning morning and afternoon commutes are about to get a little longer. From buses to bikes, students and staff from the Guilderland Central School District use a wide range of modalities to get to and from school every day. For those who walk or ride their bikes, that commute is now safer and easier thanks to the newly constructed sidewalks that connect Pine Bush Elementary School to Route 146.
A joint press conference with Assemblywoman Patricia Fahy, Superintendent of Schools Dr. Marie Wiles, Pine Bush Elementary Principal Christopher Sanita, GCSD Transportation Director Inho Suh, Counsel to the Albany County Executive Jeff Jamison, and Guilderland Police Chief Dan McNally was held on Thursday, Aug. 31 to highlight the new infrastructure and remind the public to drive safely as classes resume next week.
According to the National Highway Traffic Safety Administration, the hours immediately before and after school are classified as the most dangerous times for pedestrians. Before the sidewalks were constructed, students and staff who walked or rode their bikes to school had few safe travel options. As a result, the chances of a traffic or pedestrian accident occurring increased exponentially. At Thursday's press conference, Assemblywoman Fahy stated approximately "300 pedestrian deaths nationwide happened last year alone." The new sidewalks ensure Guilderland families have a safe, non-driving option to get to school.
"A large part of the district's mission is to ensure students feel safe," Pine Bush Elementary Principal Christopher Sanita said. "This leads to success. Removing barriers such as a lack of safe sidewalks can make great strides towards this goal."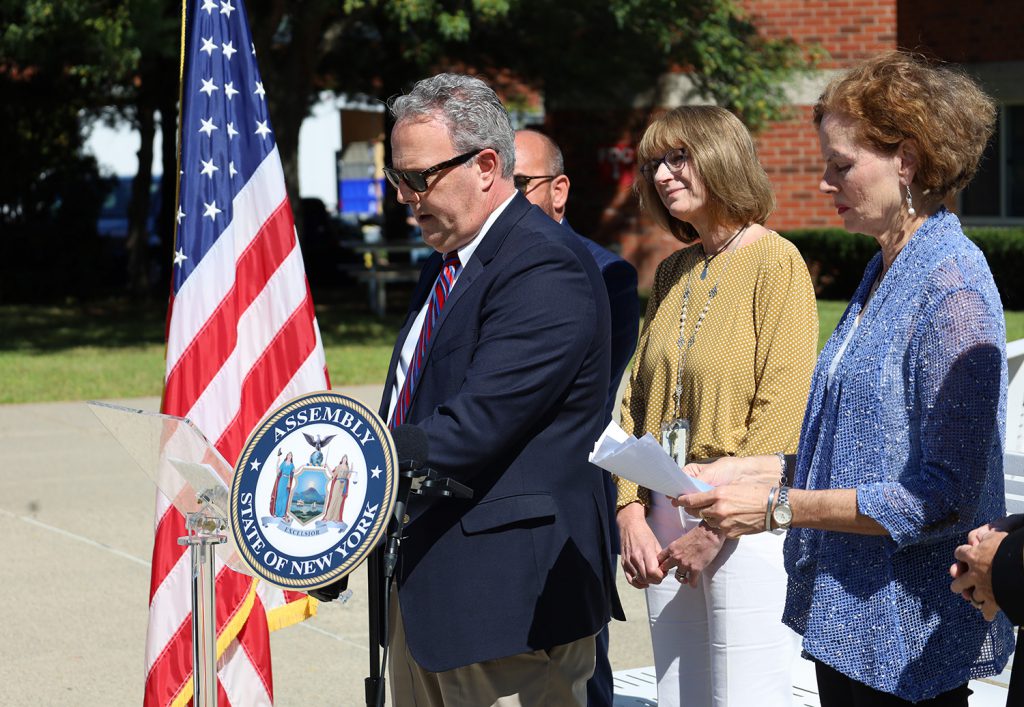 Speeding and distracted driving also contribute to accidents, especially around school buses or in school zones. GCSD was one of the first districts in the Capital Region to incorporate stop-arm cameras on its school buses. Drivers caught passing or not stopping for school buses will be ticketed and face some of the steepest fines ever enacted by the state legislature.
There are no shortcuts when it comes to safety; it takes a team to devise and implement strategies to change negative behaviors.
"Our very first responsibility is to keep each and every one of our students safe, and to do that, we cannot do that alone. We have to work like a village to make sure we have everything in place," said Guilderland Central School District Superintendent Dr. Marie Wiles.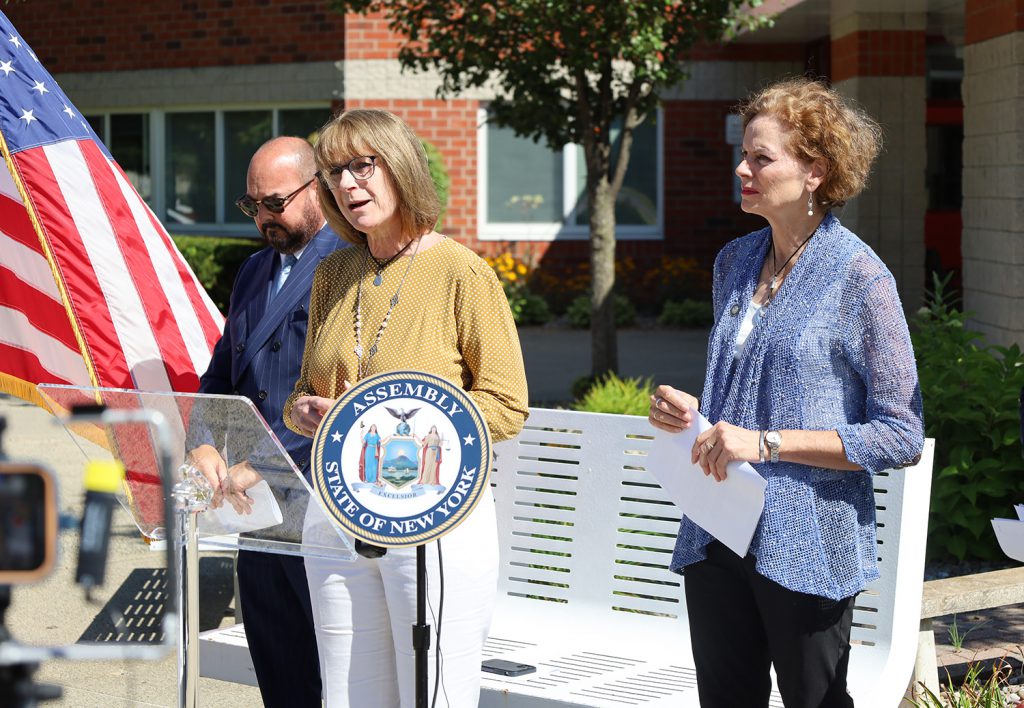 The district's partnerships with Albany County, the state legislature and the local police department ensure an issue like traffic safety is tackled from all perspectives and the right resources are appropriated. For example, the Guilderland Police Department will "increase its patrols at pickup and drop off times to help provide additional security" once school is back in session next week.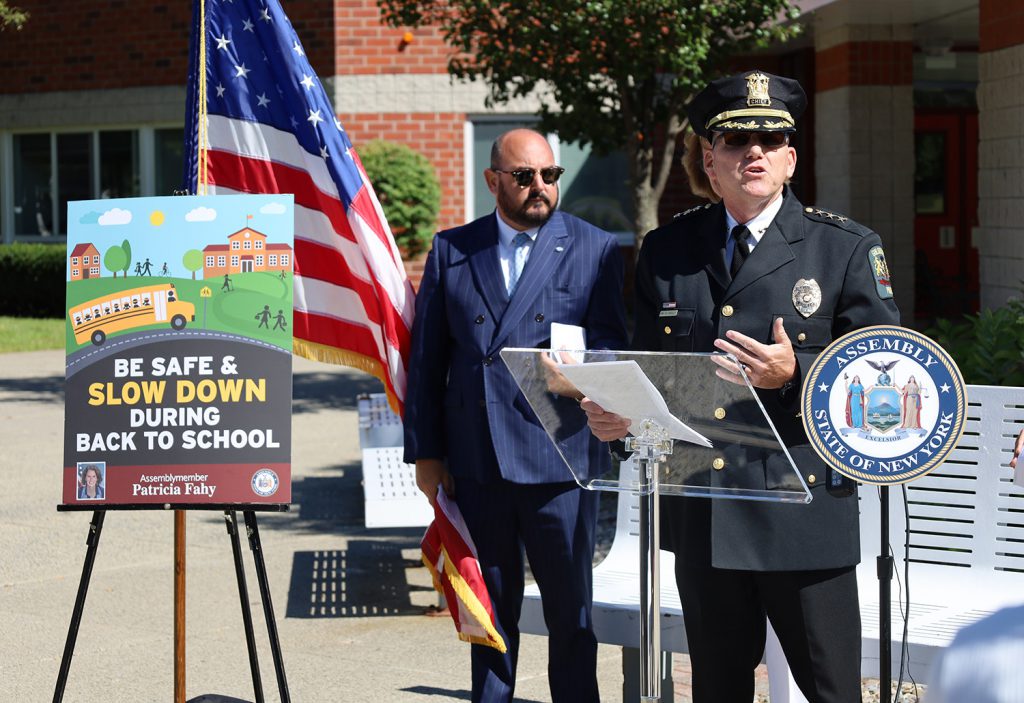 With just six days left until the first day of school, GCSD is encouraging everyone to be aware of their surroundings, drive safely and to always stop for flashing red lights.