A message from Superintendent Wiles:
Dear GCSD Families:
At the start of the school year, I communicated to Guilderland Central School District families that a top priority of the district was to have our students in school, for in-person instruction, while also maintaining their health and safety. As this continues to be an essential priority, we will begin to offer diagnostic COVID-19 testing for students on Monday, Nov. 15.
This optional program can be utilized by families if a student has COVID-19 symptoms or had close contact with someone suspected of having the virus. We are offering this program as a convenience to families, as it is becoming increasingly difficult to find COVID-19 testing with reasonable turnaround times. We expect test results to be returned within 24-48 hours.
Who can participate in this testing program
This program is available for students experiencing COVID-19 symptoms who need a convenient testing option for diagnostic purposes. This is not a test-to-return or a test-to-stay program; in the coming weeks we may expand this program to meet those objectives as permitted. 
How the testing program will work
The COVID-19 testing location will be behind the GCSD Maintenance Facility Building 3, at 2 Dutchmen Lane. This building is located behind the Guilderland Center Firehouse, on School Road. It will be open Mon-Fri, 8:00 a.m.-12:00 p.m., excluding holidays. Tests will be self-administered but a licensed practical nurse will be available to provide instructions and assistance. There is no charge for testing however your health insurance carrier may be billed directly. Appointments are not needed although you must create a profile with Quadrant Biosciences at app.clarify-COVID-19.com prior to testing. If you have more than one child enrolled in a GCSD school, you must create a profile for each student. Please remember to indicate their individual school building and to accurately enter their birthdate.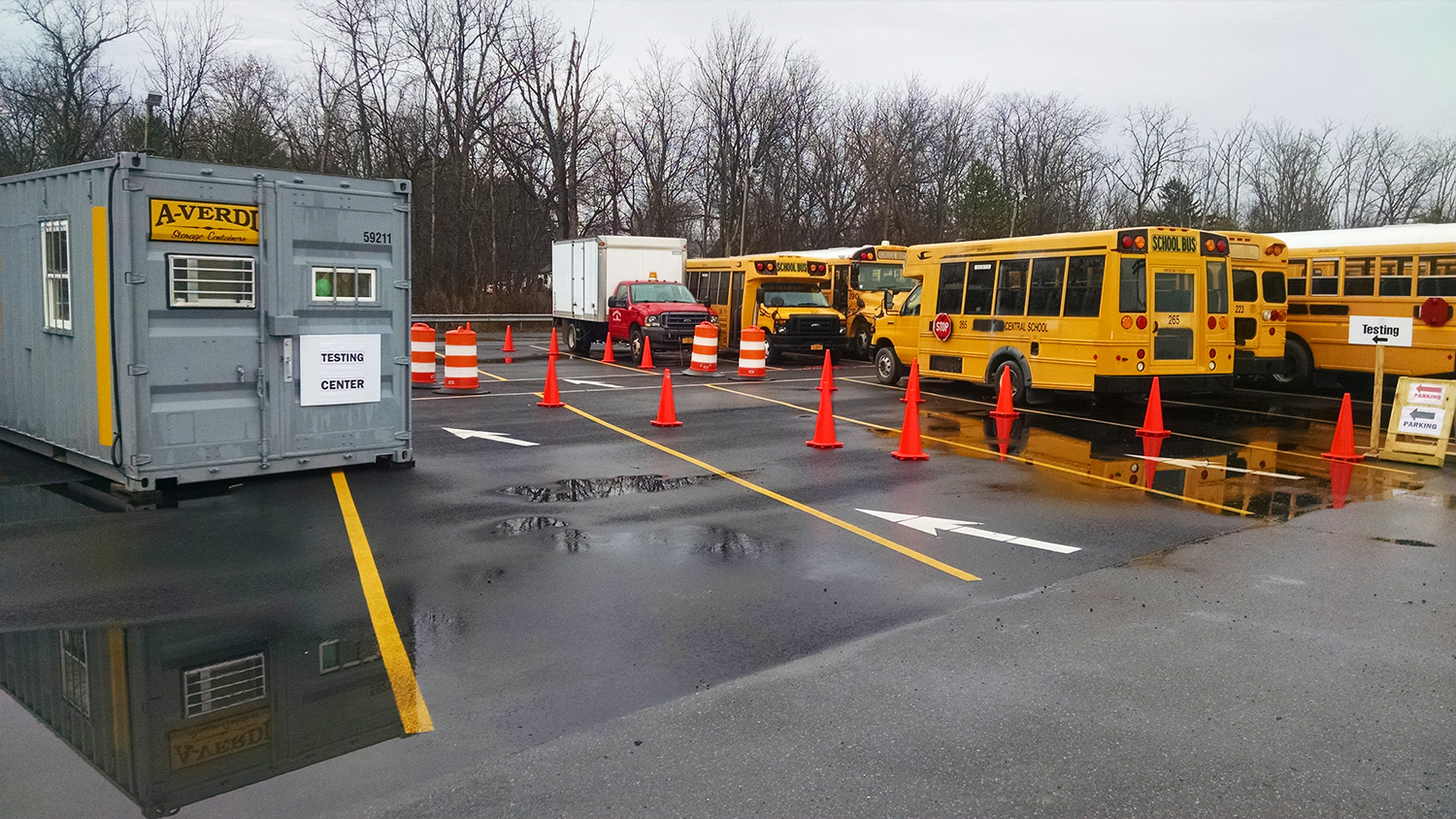 How to create a Quadrant Biosciences profile
Before participating in this diagnostic testing program, you must create a profile. To create this required Quadrant Biosciences profile, visit app.clarify-COVID-19.com. For step-by-step assistance with the process, this user guide may help. You can also find the user guide in the upper right portion of the screen when you begin to create a profile. Additionally, this video offers instructions.
Some points to note: 
You are creating a profile for your GCSD student(s), so choose "K-12 School" for organization type, then select Albany County.
Select the individual school your child attends; each GCSD school is listed in the dropdown menu, with other Albany County schools, in alphabetical order. It is very important you select the correct school building.
Although you will be asked for a social security number, you do not have to provide one. You can select the option "Decline to provide a social security number".
When asked for a driver's license number, if your child does not have one, please enter your driver's license number.
You are not required to enter a student organization ID.
After reviewing the test authorization language and agreements, check the three corresponding boxes providing consent, then click submit. You have finished completing the profile.
Once you have completed the profile, you will be brought to a screen that offers three options:

Register a COVID-19 test
Add another profile
Back to Dashboard

If you wish to add profiles for additional children, please select "Add another profile".
Please do not select Register a COVID-19 test, as the LPN will register the test after it has been administered.
More information to come
I truly believe our students do their best when they are learning in our school buildings. This program will help us to that end. When we have more details on the COVID-19 diagnostic testing, we will communicate them. Until then, I urge you to create a Quadrant Biosciences profile so you will have an account available, should you need to use it.
Thank you for continued patience and understanding as we navigate this complicated school year.
Sincerely,
Marie Wiles, Ph.D.
Superintendent