Congratulations to Guilderland High School students Keri Yamaguchi and Renee Manzella for being named recipients of the 2020 National Scholastic Art & Writing Awards.
Keri, a senior, received an Honorable Mention for the portfolio titled Human Greed and Selfishness vs. the Minda and Nature. Renee won Silver Key for the drawing and illustration titled, Cool Kicks.
Submissions are juried by luminaries in the visual and literary arts, some of whom are past award recipients. Panelists look for works that best exemplify originality, technical skill and the emergence of a personal voice or vision.
View their outstanding work below!
Renee Manzella Work, Cool Kicks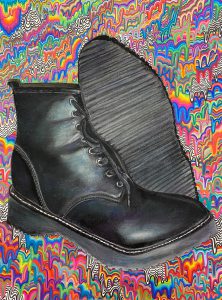 Keri Yamaguchi Portfolio Titled, Human Greed and Selfishness vs. the Minda and Nature