Congratulations to Will Cusato (Varsity Cross Country) and Cadence Brewer (Varsity Football) for earning DOW (Dutchmen of the Week) honors for the week of October 25.
Will Cusato is a senior captain on the team who had an incredible race at the Suburban Council Championships. He came in 12th place overall, with a season's best time of 16:13 minutes. In addition to his season-long consistency yielding top performances, Will is an exceptional leader for his team. He has assisted in organizing multiple team social events this year including a pasta dinner, team bonfire and a semi-formal team dinner. He works to preserve team traditions and holds his teammates accountable to be respectful and hardworking. Will never asks teammates to do anything that he doesn't do; he role models hard work, respect, and team-oriented mentality. Will volunteers once or twice a week at our youth running club and works with 3rd-6th grade students to promote the sport of cross country and to inspire the next generation of Guilderland runners. His team leadership does not go unnoticed; parents of freshman and junior varsity runners repeatedly report how much Will's leadership means to their athlete.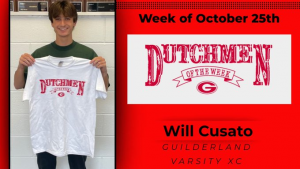 In Friday night's game, Cadence became the first female ever to play in a Guilderland Varsity football game! She has served as the team manager for the past three seasons and this season fit in time to practice and learn the game of football. Cadence earned the Dutchmen of the Week honor through her dedication, work ethic and toughness. Way to go, Cadence!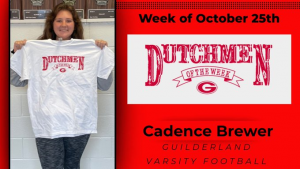 Dutchmen of the Week
Each week, we will highlight one male and one female student athlete (Modified, Mod 9, Frosh, JV or varsity level) for athletic accomplishments based on the following criteria.
The athlete should have made a significant impact to a contest within the nomination time frame, which is the week prior to selection; or
The athlete must have shown excellent leadership, sportsmanship, noticeable improvement/effort, community service and/or other notable trait(s).