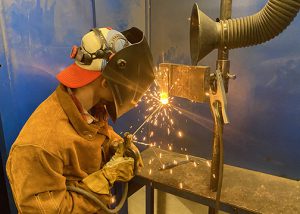 Guilderland High School senior Hunter Hebler is proof of just how valuable a career and technical school education can be.
Hebler, who turned 18 in April, is one of dozens of Career and Technical School students turning their training into careers, with multiple job offers to weigh as they contemplate their next step in life.
"I have two job offers and I am considering my best options," said Hunter Hebler as he recently worked in the welding lab of the Capital Region BOCES Career and Technical School, Albany Campus.
BOCES' approximately 40 high school and adult education programs provide the skilled labor training so desperately sought in this post-COVID economy, as well as professional skills, such as communication, problem solving, time management and budgeting. BOCES also works with dozens of industry organizations in order to provide students with professional certifications. In total, more than 100 professional, resume-building certifications are offered in various career and technical school programs.
For students like Hebler, that means an array of opportunities lie ahead . "It's great having a job and having options," said Hebler. Teacher Don Mattoon said Hebler has what it takes to be successful in the industry. "Hunter is a determined hard-working individual that shows career readiness daily. His willingness to learn the trade of welding makes teaching him a pleasure," Mattoon said.
The GHS student said he appreciates the education he has received at Capital Region BOCES. "The best part of the last two years has been the welding – I like hands-on work," Hebler said. "Mr. Mattoon is awesome. I like the challenge of welding, figuring things out and making it all come together and that's what I am able to do now because of (Capital Region) BOCES."