Congratulations to Willow Novak (Varsity Track & Field) and Will Cusato (Varsity Track & Field) for earning DOW (Dutchmen of the Week) honors for the week of May 9.
Willow Novak (Varsity Track & Field)
Willow had an amazing week for the track team last week. She won the 400 meter dash in a dual meet versus Ballston Spa, with a time of 58.77 secs. This is the 3rd fastest time in the history of the program. She followed that by winning the 200 meter dash at the Shen Invy with a time of 26 secs. That is the 2nd fastest time in program history. She was also part of the 4 x 100 relay team that broke the school and meet records at the Shen Invy. Way to go, Willow!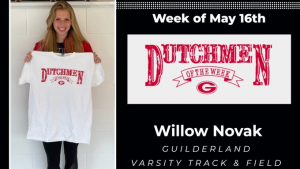 Will Cusato (Varsity Track & Field)
Will is a senior captain on the varsity track and field team who has consistently demonstrated outstanding leadership and impressive individual performances this season. At the Shen Invy, Will came in 1st in the open 800 with a time of 1:55.72. This is currently the 9th fastest time in NYS in this event. Will also anchored the winning 4 x 800 relay team at the Shen Invy. Congrats, Will!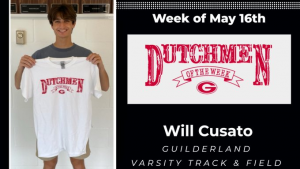 Dutchmen of the Week
Each week, we will highlight one male and one female student athlete (Modified, Mod 9, Frosh, JV or varsity level) for athletic accomplishments based on the following criteria.
The athlete should have made a significant impact to a contest within the nomination time frame, which is the week prior to selection; or
The athlete must have shown excellent leadership, sportsmanship, noticeable improvement/effort, community service and/or other notable trait(s).