Dutchmen of the Week (DOW) Honors
Each week, we will highlight two student-athletes (Modified, Mod 9, Frosh, JV or Varsity level) for athletic accomplishments based on the following criteria:
The athlete should have made a significant impact to a contest within the nomination time frame, which is the week prior to selection; or
The athlete must have shown excellent leadership, sportsmanship, noticeable improvement/effort, community service, and/or other notable traits.
Jump to specific weeks by clicking the week below.
---
Week of February 14
Angela DelPosso (JV Girls Basketball)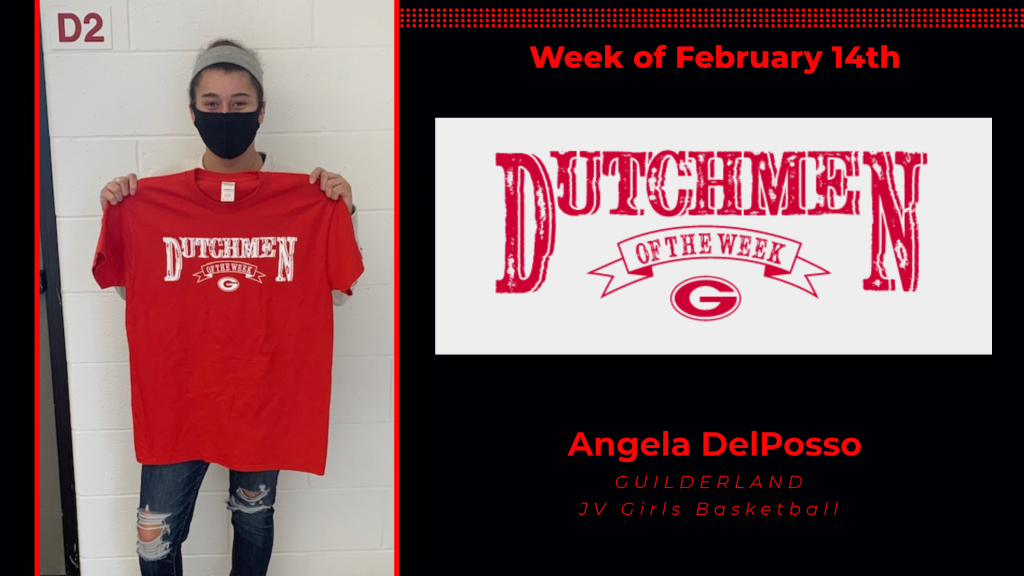 Angela just started playing basketball 3 years ago. Last year, she was on the Mod 9 team. This season, she has earned her way into the starting lineup on the JV team. Angela drained three 3 pointers this past Saturday against Colonie. Way to go, Angela!
Carli Rem (Varsity Gymnastics)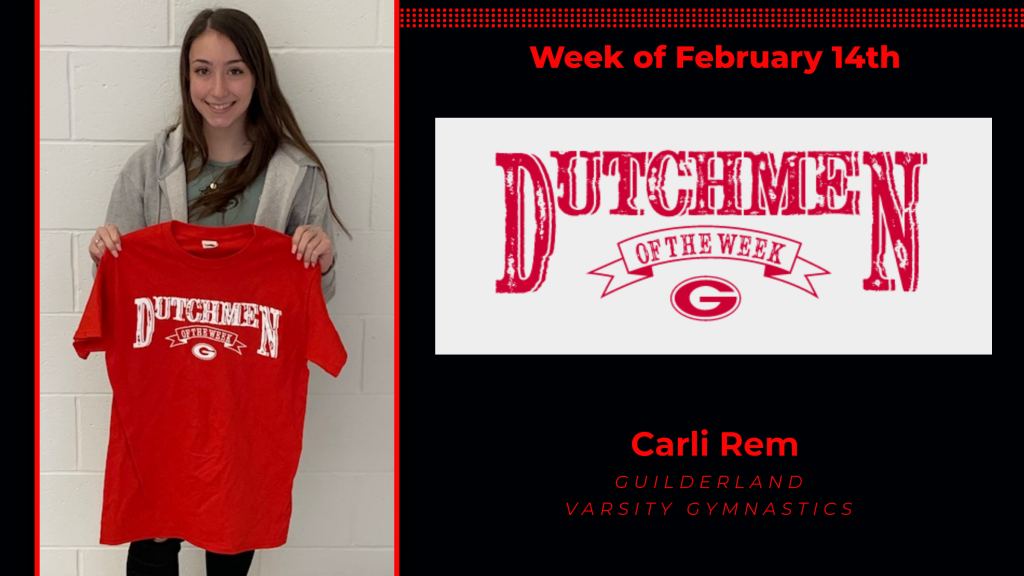 In the final week of the season, Carli put together her two best meets of her career.  She hit on all 8 routines!  She placed 6th at the Suburban Council All-Around Championships and then stepped up her game at the Suburban Council League Championship Meet and delivered her best performance in the final meet of her career.  Her leadership skills were instrumental in spurring her teammates to deliver their best performances, giving Guilderland a 2nd place finish at the league championship meet.
Week of February 1
Lauren Buess (Varsity Bowling)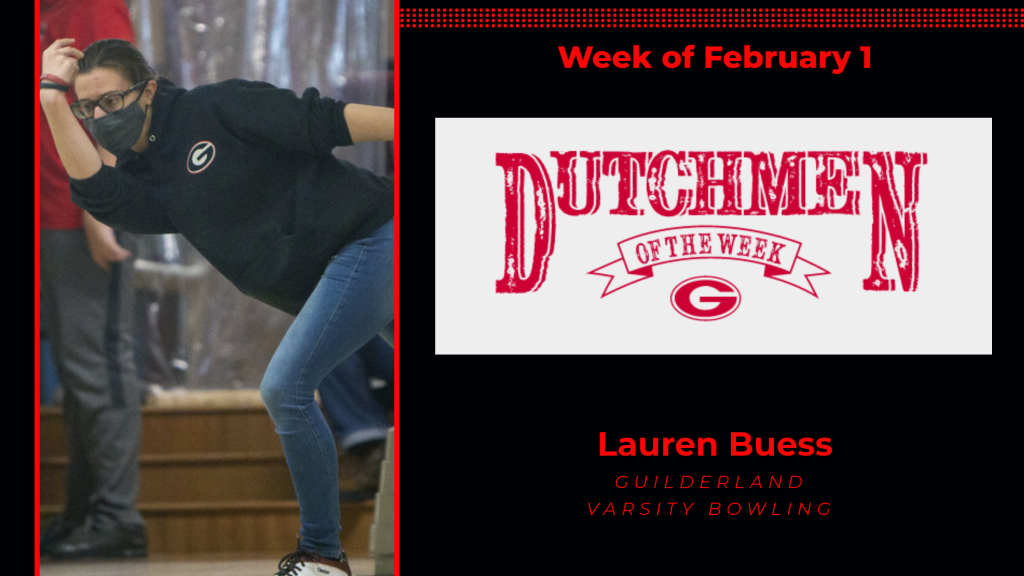 Lauren is a senior on the bowling team. She has been a varsity starter for 4 years. She earned team MVP last year and has continued her success this season. Against Columbia, Lauren ripped off a 227-245-289 for a triple of 761. That's an average of 253 for the day! That is 55 pins over her average for the year. Way to go, Lauren.
Danny Knapp (Varsity Indoor Track)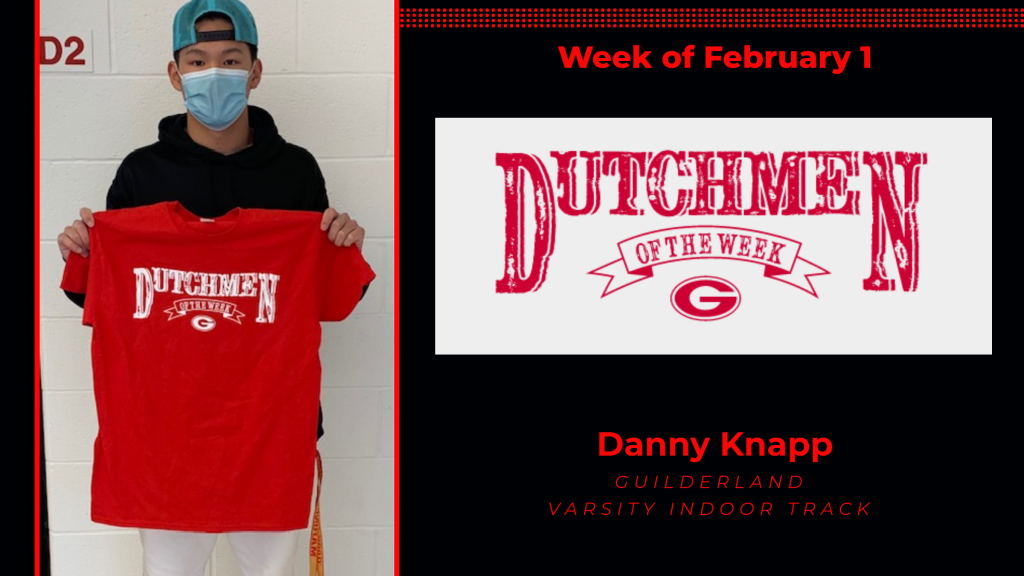 Danny has been working incredibly hard this season to improve. That hard work paid off at an inter-squad meet on Friday, February 5th. Danny helped score 26 points for his team. He won the 300m and the 4 x 200 relay. He also placed 3rd in the 55m. His 300m time was an all-time PR of 41.0 seconds. Danny also volunteered his time the night before the meet to help clear snow off the track. Danny is a hard-working individual and leads by example.
Week of January 25
Jayson Capullo (Varsity Bowling)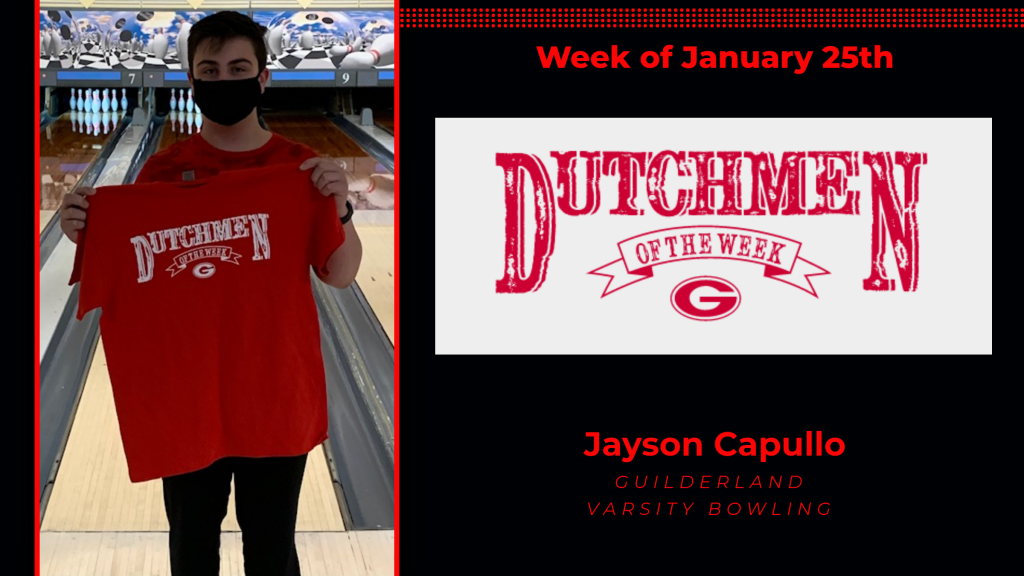 Last week Jayson fired his first-ever perfect game, 300, against Averill Park. He preceded that with a 247 and a triple of 725. His game average was a 242! He helped his team to two victories last week. On the season, Jayson is tied for the highest average on the team. He has a great work ethic and a super attitude. Congrats, Jayson!
Beth Irwin (XC Ski)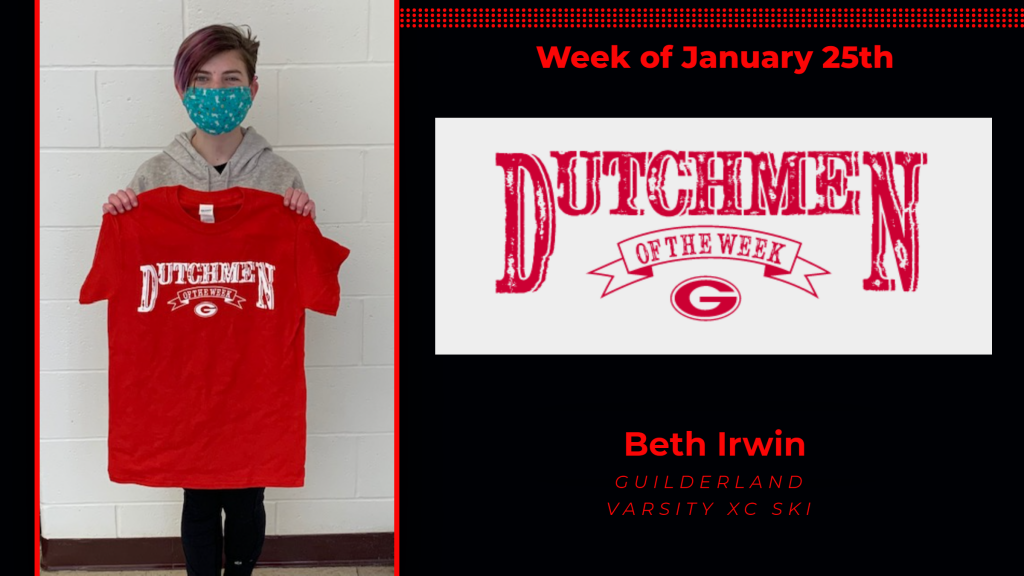 Beth has been the number one finisher for Guilerland in all of our races this year. On Saturday, she had her best finish at the Lake George Invy. Beth placed 10th out of the 28 varsity racers at a time of 32:10. The 6.6 K race distance at the Gore Mountain Nordic Center is one of the toughest courses and Beth had an outstanding performance. Way to go, Beth!
Week of January 18
Miranda Putorti (Varsity Gymnastics)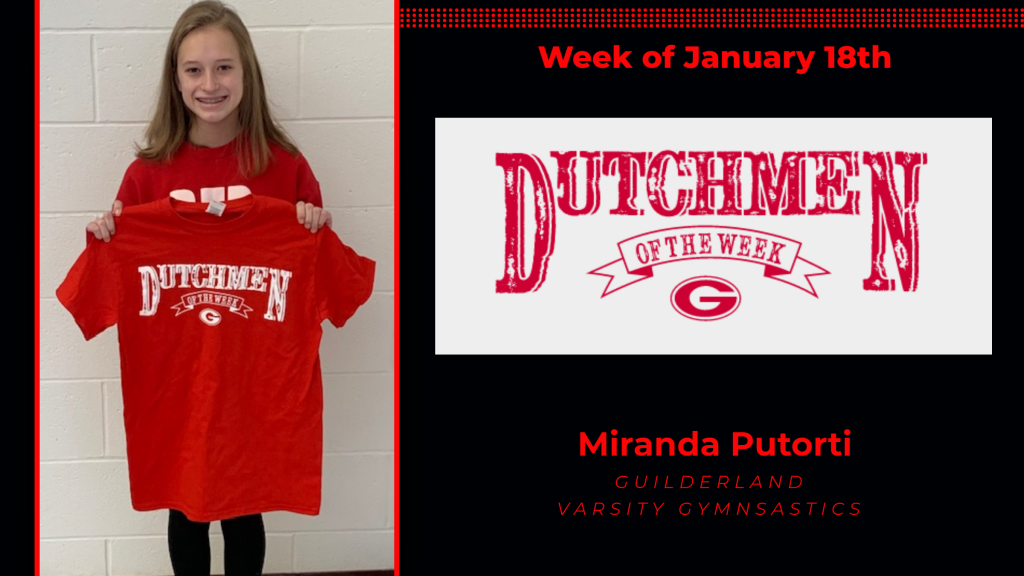 Miranda scored personal records on the Floor, Balance Beam and the All-Around to help her team secure a win against Bethlehem. Miranda has worked hard and has added several new skills during the season! Congratulations, Miranda.
Eric Ryan (Varsity Swimming & Diving)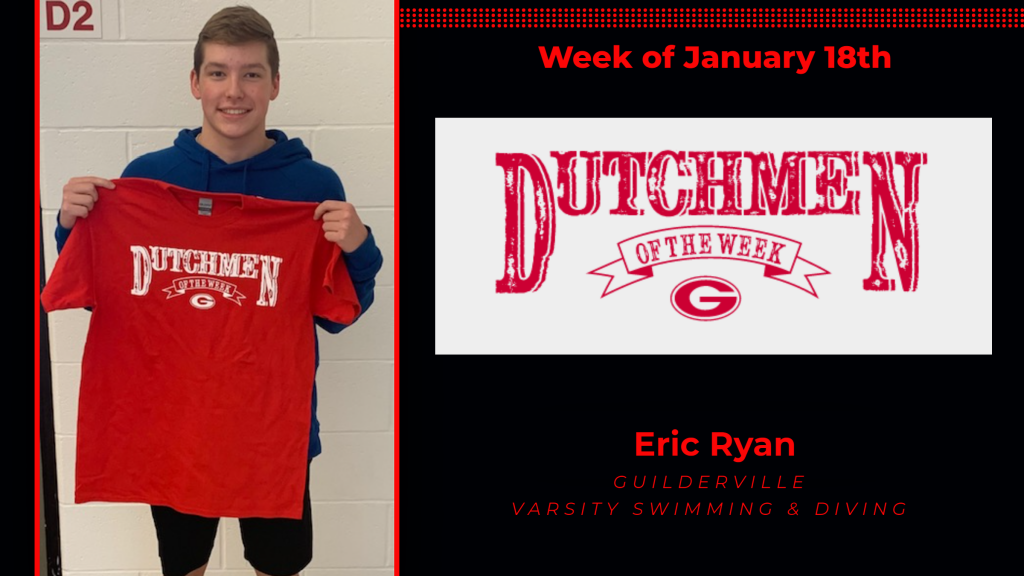 Eric is a great all-around swimmer. He qualified for States earlier in the season in the meet against Shenendehowa in the 100 Fly with a time of 53.95. This was good for a 1st place finish. Eric also recorded 1st place finishes last week against Ballston Spa in the 200 Free and 100 Breaststroke and against Shaker in the 200 I.M. and 100 Fly. Congratulations, Eric.
Week of January 11
Andrew Compareta (Varsity Bowling)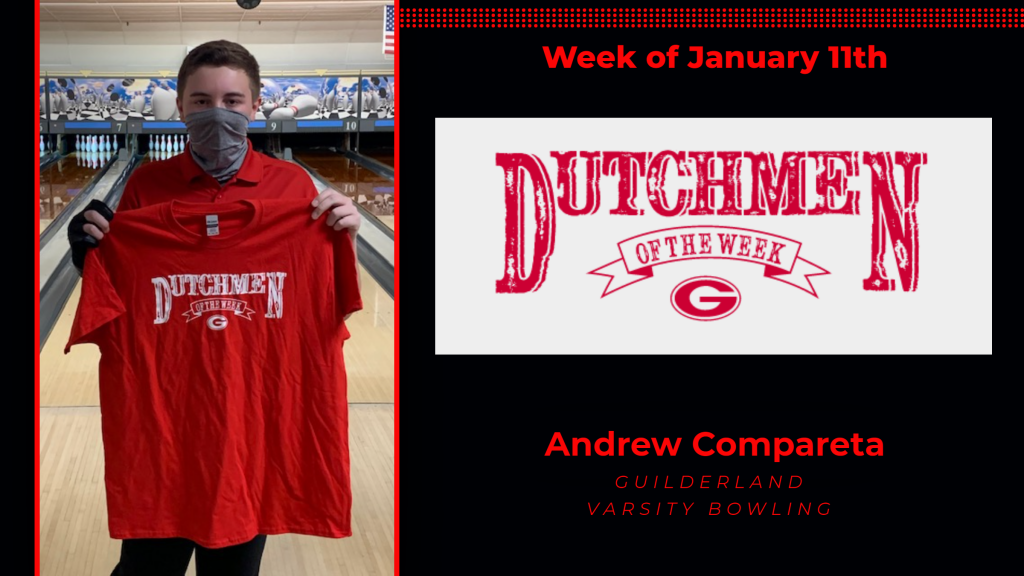 Andrew fired a 278 single game and a 650 total last week. Both are career-high numbers. His average for the week was 210, 22 pins higher than his season average. Andrew has helped his team to 3 wins and 2 losses in the early going of the Suburban Council bowling schedule. Congratulations, Andrew!
Kate Scanlan (Varsity Indoor Track)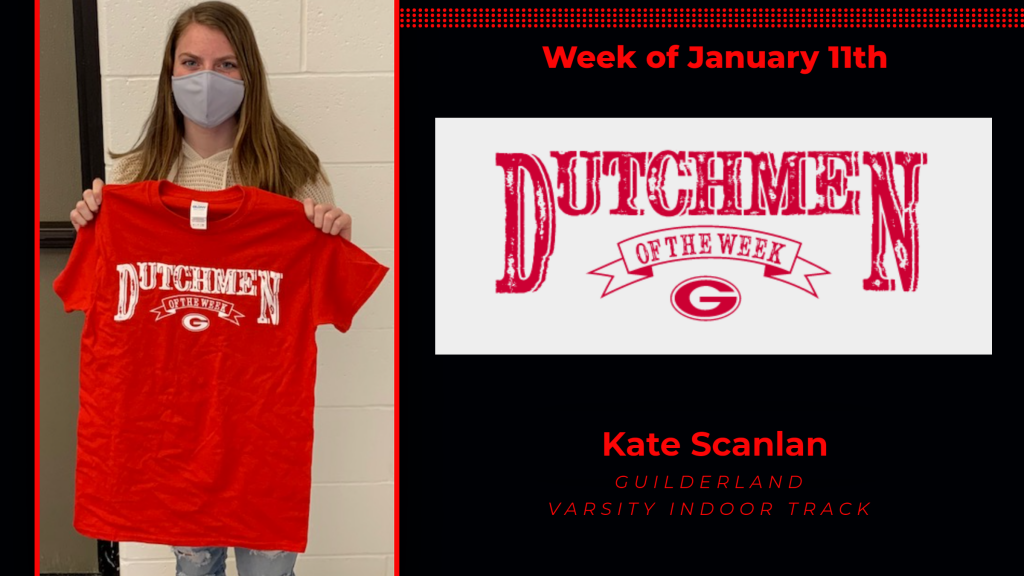 Kate ran 4 events and scored 38 points for her team on Sunday in the 1st ever winter "outdoor" track meet. She won the 55-meter dash with a time of 7.8, won the 300-meter dash with a time of 45.0 and helped her 4 x 200-meter relay team win. She was also 2nd in the 55-meter hurdles with a time of 9.2. On top of her great performances, Kate stayed 3 hours after practice last week to help shovel the track to make this outdoor meet possible. Way to go, Kate!
Week of November 16
Lauren Conti (Varsity Soccer)
Lauren played exceptional all season long, especially in the final regular-season game @ Columbia. In that game, she helped prevent Columbia's speedy forwards from scoring. She went on to score the game-winning penalty shot in overtime, sending the Lady Dutch to the semifinals of a postseason tournament for the first time in 7 years.
Alex Vellekoop (Varsity XC)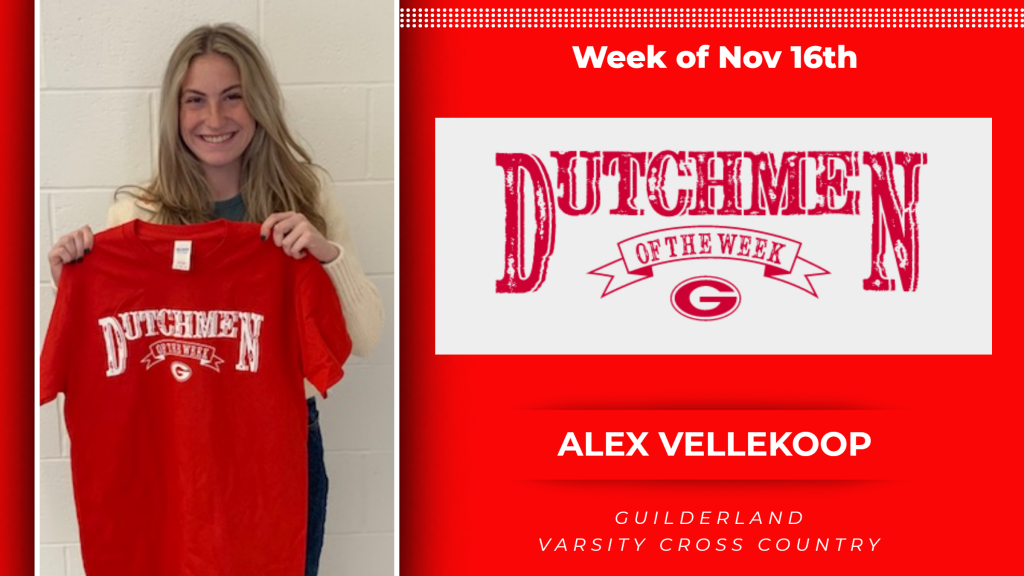 Alex had a phenomenal cross country season. She was our #1 runner and a caption on the 2020 team. She led the girls to an impressive 6th place finish in a loaded Suburban Council Championship meet. Her season was so impressive that she was selected as a Suburban Council All Star!
Maxwell Wang (Varsity XC)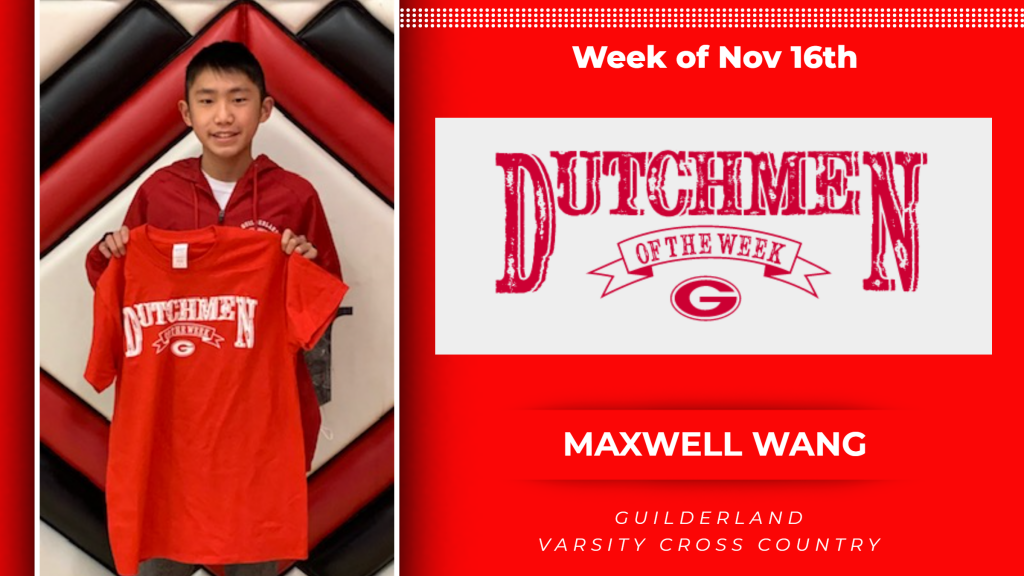 Max is an 8th grader who has been an incredible addition to the 2020 GHS Boys XC team. Max is fearless in his willingness to set big goals and then he has the courage to achieve them. He set a goal to run our home course (Tawasentha Park) in less than 17 minutes. In the last race of the season, he ran a time of 16:31 becoming the 22nd fastest time ever run by a Guilderland runner on the course. This past weekend at the Suburban Council Championship meet, Max ran a time of 17:18, which is 17 seconds faster than he ran on the same course two weeks ago. Max is a runner to watch!
Week of November 9
Shoun Francis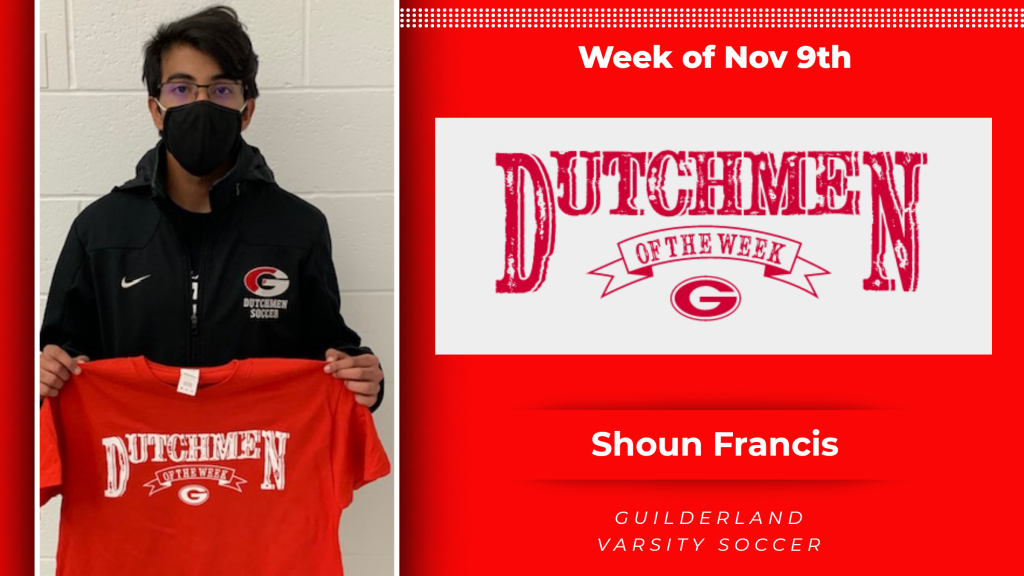 Shoun is a senior on the varsity boys soccer team. This past week, he scored the lone goal to defeat Albany and had the tying goal against CBA, which Guilderland went on to defeat 3 to 2. Shoun is one of the top players on the team. "His work rate is unmatched and you can always count on him to give 100%," says Coach Mike Kinnally. Way to go, Shoun!
Skyler Van Wormer (JV Field Hockey)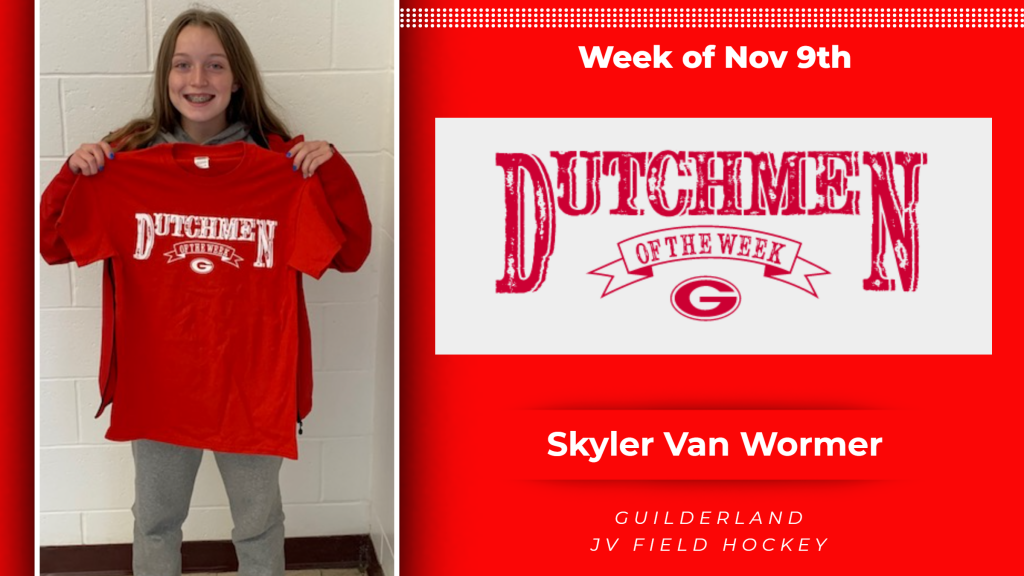 Skyler is a force on the field. Not only is she strong and quick, but she also has a competitive edge that makes her an amazing athlete. She is one of our leading scorers for the JV field hockey team. She was a big reason why her team finished in 1st place in the Suburban Council this season. Offensively, she's a threat to the other team and defensively, she's a hustler who never backs down. As a result of her hard work and effort, she has been moved up to varsity for the Suburban Council playoffs this week. Great job, Skyler!
Week of November 2
Madalyn Altieri (Varsity Swimming & Diving)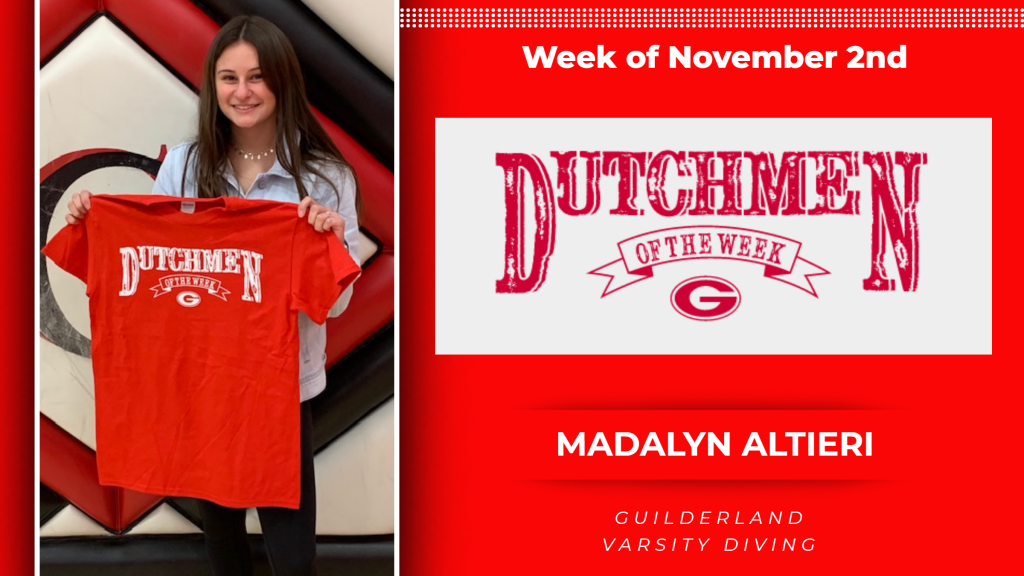 Maddy is a senior who is competing in her 6th season on the varsity girls swimming & diving team. She is a 2nd-year captain and exemplifies what a student-athlete should be. She is a wonderful leader and goes out of her way to make sure every girl on the team feels included from the moment they step onto the pool deck. Maddy is the leading scorer for the diving event. She is currently ranked 3rd in the section and 10th in the state. She sets an amazing example for all the younger athletes on the team and is a great representative of her school.
Will Cusato (Varsity XC)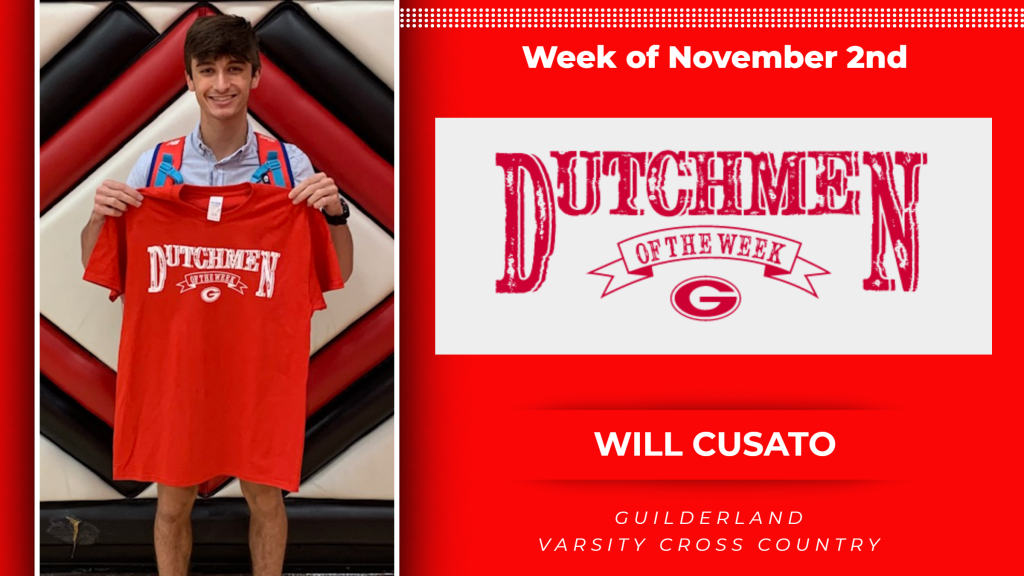 Will consistently leads our team with top running performances. This past Saturday, he ran an impressive 16:47 on the challenging Saratoga Spa State Park Championship course, despite running with a mask and not running in live time against his competitors. In addition to Will's personal drive, deep commitment to personal improvement, and incredible passion for the sport, Will is an unshakeable leader for his team. He reaches out to underclassmen, provides sound advice, gives pep talks before races, and works to ensure the traditions of The Long Red Line are preserved. Will is an incredible athlete, a fierce competitor and a respected leader.
Week of October 26
Katrina Setchenkov (Varsity Girls Tennis)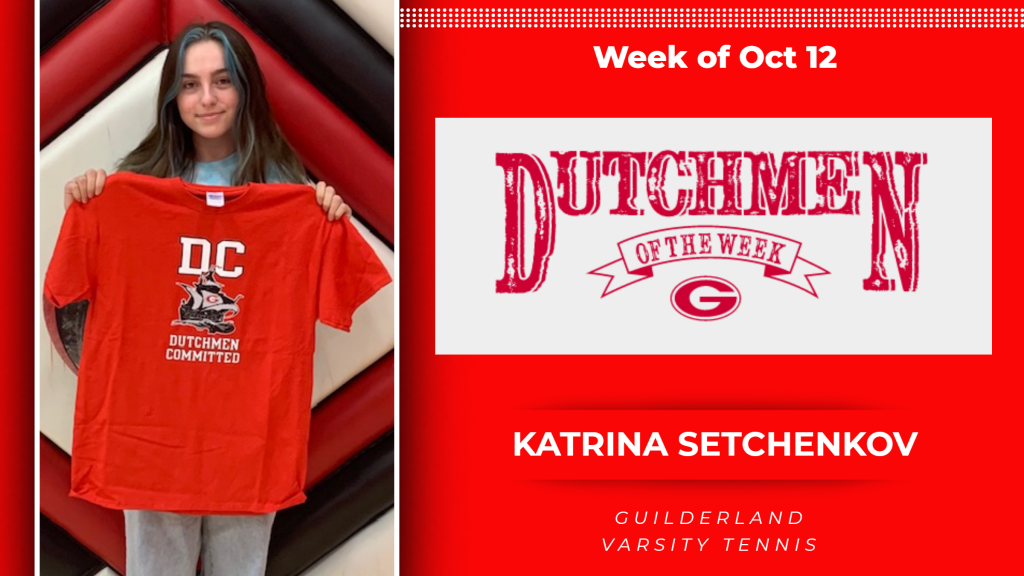 Katrina just rounded out her 2020 tennis season with a BIG win against the #3 seeded player in Section 2. Earlier in the season, Katrina lost to this player from Niskayuna 4 to 6, 5 to 7. However, on Saturday at Central Park, after being down 6 to 7, Karina dug deep and won the next 4 games to win 10 to 7. Playing in the #1 Singles position is no easy task and the Suburban Council is the toughest league in Section 2 to boot. Katrina had an amazing season with a record of 10 wins and only 1 loss.
Illia Tyrkus (Varsity Boys Soccer)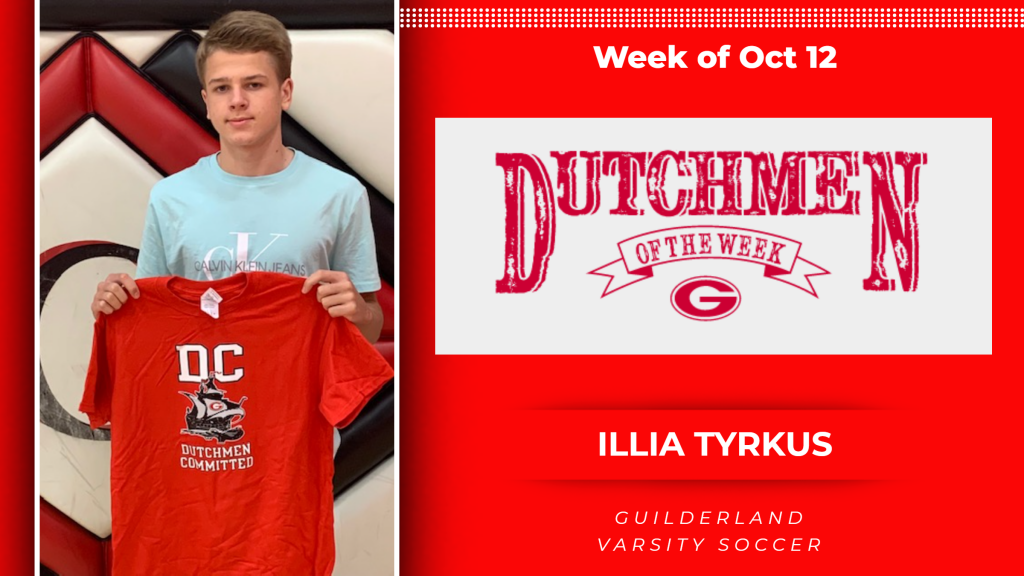 Illia scored 3 goals and had an assist in wins against Troy and Shaker over the past 4 days. Offensively, he was the most dangerous player on the field. Illia has helped his team to a record of 4 wins, 4 losses and 2 ties. They currently sit in 7th place out of 13 teams in the Suburban Council.
Week of October 19
Megna Naidu (Varsity Girls Golf)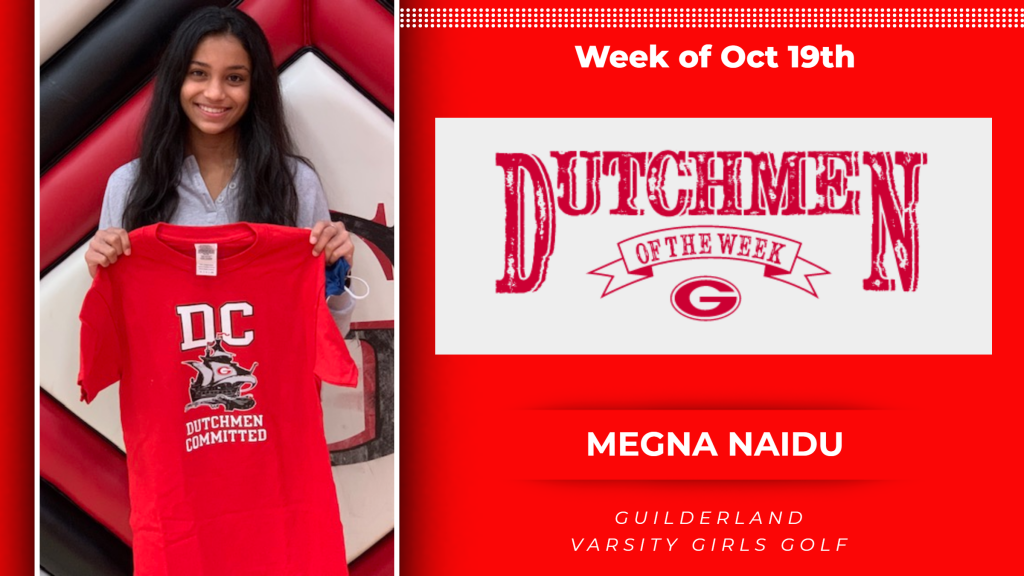 What a week for Megna! Last Saturday at Van Patten Golf Course she tied for first in the Suburban Council Championship.
That capped a season in which she led the girl's team to an 8-1 record and second-place finish in the league standings. Megna is extremely dedicated to improving as a player. Given her talent and work ethic, we will continue to hear more about her accomplishments in the years ahead. Congratulations, Megna.
Anthony Ruggiero (Modified Boys Soccer)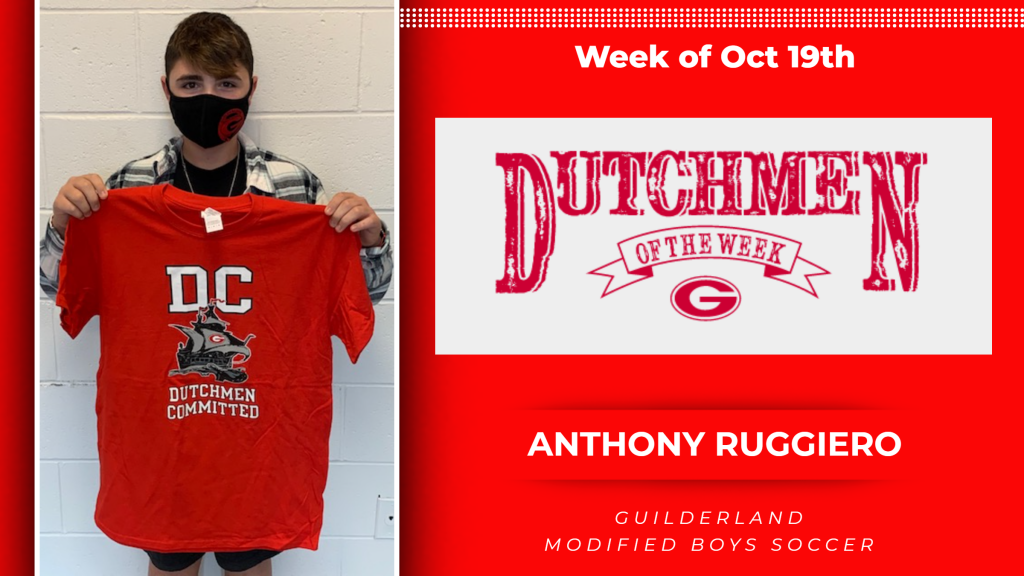 Anthony is a force to be reckoned with on the defensive side of the field. He does an impeccable job of disrupting fast breaks and stopping the momentum of the offense. Anthony does a great job of communicating to the rest of the team and demonstrates a lot of passion for the game. Way to go, Anthony!
Week of October 12
Ellen Billington (Varsity Field Hockey)

Ellen is a starting right wing for the defending sectional champion, Lady Dutch. The team went 2 and 0 last week with 2 shutouts. Ellen scored 4 goals and had 5 assists in those 2 games. She is a key player on a team that currently sits at 3 wins and 1 loss on the season. Congratulations, Ellen!
Kilian Thompson (Varsity XC)

Since the beginning of this 2020 cross country season, Kilian has demonstrated leadership, inclusion, and concern for the Freshmen, 8th graders, and new-to-XC athletes on the team. He has consistently worked to keep his younger teammates on track (literally ensuring they don't get lost) and helping the underclassmen gain a sense of the incredible power and community that is the Guilderland Long Red Line, despite it being a year where many of our traditions and ways that we celebrate and cherish this tradition have been upended. Kilian has embodied all that the Guilderland Long Red Line represents; leadership, fierce competition, team-first attitude, personal drive and a deep commitment to running. Way to go, Kilian!