Congratulations to Dillon Blanchard (Varsity Wrestling) and David Filkins  (Junior Varsity Basketball) for earning DOW (Dutchmen of the Week) honors for the week of Feb. 14.
Dillon Blanchard (Varsity Wrestling)
Dillon took 7th place at 189 lbs this past weekend at the NYSPHSAA Wrestling State Championships. This is the first place finish for a Guilderland wrestler since 2009. Dillon finishes his career with 99 wins, 7th place finish in NYS, and was Section 2 Division 1 and Section 2 Class A champion this season. Dillon has been a varsity wrestler since 7th grade. He was also a member of last spring's sectional championship football and lacrosse teams. Outstanding career, Dillon!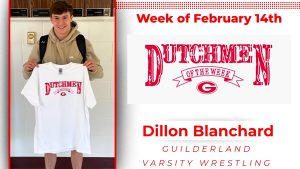 David Filkins (Junior Varsity Basketball)
David helped the JV boys basketball team close out the season on a high note with a win over Burnt Hills. He led the way with 12 points and 4 rebounds, including 3 three point shots made. David had an amazing year learning the game and working his way into being a starter and a reliable player. He always worked his hardest in practice and always wanted to learn. He became a vocal leader for the group and his positive attitude spread amongst his teammates. Awesome job, David!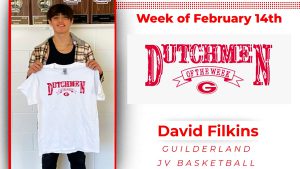 Dutchmen of the Week
Each week, we highlight two student-athletes (Modified, Mod 9, Frosh, JV or Varsity level) for athletic accomplishments based on the following criteria:
The athlete should have made a significant impact to a contest within the nomination time frame, which is the week prior to selection; or
The athlete must have shown excellent leadership, sportsmanship, noticeable improvement/effort, community service and/or other notable trait(s).