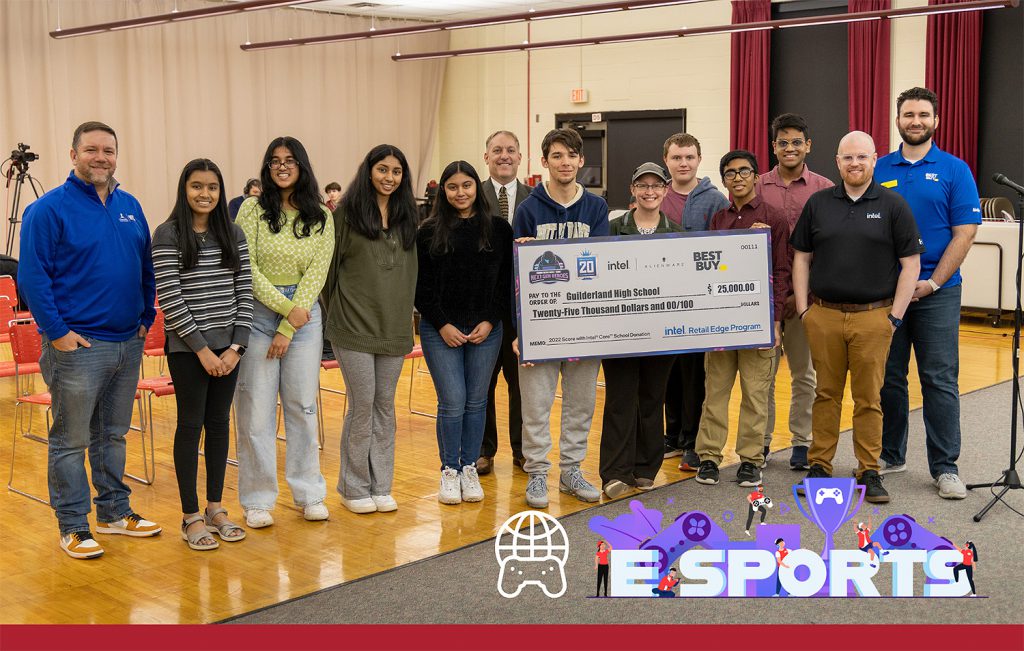 Guilderland High School is excited to announce that it has received a $25,000 technology grant from Best Buy in Albany as part of the Intel Retail Edge Program. The grant includes equipment and $5,000 cash, which will be used as an investment in the school's technology programs and in its esports team. James Connors from Intel presented a check to several GHS students at the Jan. 10 board of education meeting, along with two employees from the Albany Best Buy, Matt Pothier and Doug Cusano.
The grant stems from the Intel Retail Edge Program, which regularly keeps retail locations that sell Intel products, such as Best Buy, up-to-date on the latest technology developments. Part of the program is an annual training campaign called "Score with Intel Core" where Best Buy employees compete to expand their knowledge of Intel products to make informed sales to their customers. 30 stores win grand prizes, which includes awarding schools tech grants.
The Albany Best Buy store was one of the top 10 locations to receive the maximum tech grant and they decided to award the grant to Guilderland High School.
"We're part of Guilderland," said Albany Best Buy sales consultant Matt Pothier. "Knowing that these are folks that we help most often and we wanted to help them in a different way, besides just getting the product. We wanted to give them the resources they need to excel at what they really want to do."
GHS Principal Mike Piscitelli was thrilled about the news, saying "I was shocked that we were going to be receiving this grant. It opens up possibilities for our students."
The grant will have a profound impact on many facets of technology at GHS, especially on the development of its esports team.
The name esports is short for electronic sports. Similar to athletic team sports, players practice and strategically compete with their teammates in video game matchups and tournaments.
"Having students who might not typically be participating on an athletic team gain the same skill sets that they would through that experience. Whether it be through communication, problem solving, teamwork. We think it can really grow their skills," said GHS Principal Mike Piscitelli.