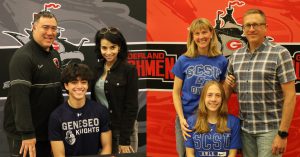 19 GHS seniors celebrated their future of playing collegiate sports Monday as part of a National College Decision Day tradition. 
The district athletics department held an event in the high school gymnasium, inviting family and friends to join in on these student athletes. 
The 19 senior student athletes honored are:
Aiden Tice, Lacrosse, SUNY Potsdam
Billy Bogue, Track and Field, SUNY Geneseo
Chad Maurer, Golf, Arcadia University
Destiny Pipino, Basketball, Hudson Valley Community College
Ella Narins, Golf, St. Lawrence University
Emily Norgrove, Volleyball, Suffolk University
Emma Harbeck, Volleyball, SUNY Potsdam
Emma Wendt, Cross Country, Nazareth College
Erika Irwin, Cross Country and Track and Field, Nazareth College
Gavin Motto, Football, St. John Fisher
Giuliana Vivenzio, Field Hockey, SUNY Cortland
Jaimee Lowe, Volleyball, Framingham State University
Jessica Helou-Topini, Basketball, Curry College
Justin Kapusinsky, Football, Long Island University
Lillie Teague, Softball, Muhlenbergy College
Megan Swan, Track and Field, Southern Connecticut State University
Nithya Gutta, Track and Field, Albany College of Pharmacy and Health Science
Quinn Orsini, Lacrosse, Utica University
Sophia Cannistraci, Field Hockey, SUNY Cortland
Congratulations to these students on their success and we wish you the best of luck with your future as a collegiate student athlete. You make Guilderland proud!