In February, the Guilderland Central School District community donated over 1,070 books to Project: Cameron's Story.
A special thanks to the FMS community for their generous efforts that collected 860 of the total 1,073 books! The total number collected this year from 166 sites was 24,231 books.
"Thank you to everyone who donated or shared this information with your students," said Cameron's mom, Sara, "I'm overwhelmed by the generosity of the Guilderland community. "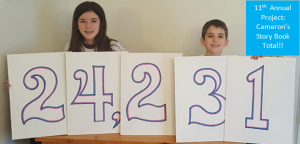 Cameron's brother and sister hold a sign indicating 24,231 books were donated in 2020.
---
From Feb. 3 to Feb. 14, 2020, all Guilderland Schools served as collection sites for Project: Cameron's Story, a not-for-profit organization that collects new children's books for families of babies in the neonatal intensive care unit (NICU) at more than a dozen hospitals throughout New York. This is the sixth year Guilderland schools have participated and with the help of the Guilderland community, the district has donated over 3,900 books to Project: Cameron's Story. Last year, the district donated over 1,200 books and this year's goal was another 1,000 books!
The goal of Project: Cameron's Story is to support the bonding of parents with their premature babies in the NICU through the use of children's literature and storytelling. To learn more about the organization, please visit the Project: Cameron's Story Facebook page or the organization's official website.
Several Guilderland teachers have been touched by this program including Jamie Mullins, a social studies teacher at FMS. Her son is a kindergartner at Guilderland Elementary. Regionally, donations will benefit babies at Albany Medical Center, St. Peter's Hospital, Crouse Hospital, Stony Brook University Hospital, Golisano Children's Hospital, UHS Wilson Medical Center, and Glens Falls Special Care Unit.
For more information on the collection program, please contact Jamie Mullins (FMS) or for a digital version of the Scholastic order form.