Congratulations to Lydia Santabarbara (Mod 9 Softball) and Logan Nates-McCabe (Modified Track and Field) for earning DOW (Dutchmen of the Week) honors for the week of May 2.
Lydia Santabarbara (Mod 9 Softball)
Last week, Lydia helped the mod 9 softball team to a 3-1 record. Lydia batted .545 with 6 hits, including a triple. Lydia was a terror on the base paths, scoring 4 times and stealing 2 bases. Defensively, Lydia showed how versatile she is by playing center field, shortstop and second base over the course of the 4 games. Way to go, Lydia!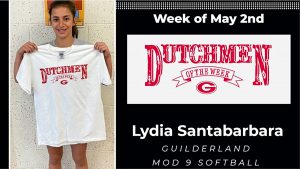 Logan Nates-McCabe (Modified Track & Field)
Logan is a great addition to the modified track team. He is an extremely hard worker and is very dedicated to the sport. He loves to compete. This past week at a meet at Guilderland, Logan ran the 55 hurdles in a time of 11.88. He also ran the 100 meters in a time of 16.13. Great job, Logan!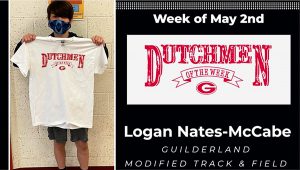 Dutchmen of the Week
Each week, we will highlight one male and one female student athlete (Modified, Mod 9, Frosh, JV or varsity level) for athletic accomplishments based on the following criteria.
The athlete should have made a significant impact to a contest within the nomination time frame, which is the week prior to selection; or
The athlete must have shown excellent leadership, sportsmanship, noticeable improvement/effort, community service and/or other notable trait(s).