Congratulations to Mahen Bitkuri (Varsity Tennis) and Daniel Macchiarella (Varsity Lacrosse) for earning DOW (Dutchmen of the Week) honors for the week of April 4.
Mahen Bitkuri (Varsity Tennis)
In the first match of the season, Mahen defeated perennial powerhouse Bethlehem's #1 player in three sets. Mahen's opponent qualified for the NYS Tournament last season and is one of the top players in Section 2 again this season. Outstanding victory for Mahen!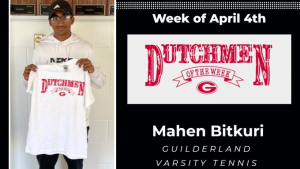 Daniel Macchiarella (Varsity Boys Lacrosse)
Danny scored 11 goals last week, helping his team start the season with a 3-0 record. He had 4 goals vs Queensbury, 3 goals and an assist against Colonie and finished the week off with 4 goals against Shaker. One of Danny's goals against Shaker was the game winner in overtime! Way to go, Danny!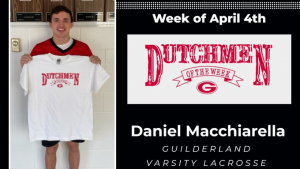 Dutchmen of the Week
Each week, we will highlight one male and one female student athlete (Modified, Mod 9, Frosh, JV or varsity level) for athletic accomplishments based on the following criteria.
The athlete should have made a significant impact to a contest within the nomination time frame, which is the week prior to selection; or
The athlete must have shown excellent leadership, sportsmanship, noticeable improvement/effort, community service and/or other notable trait(s).