Congratulations to Tommy Tyksinski (Varsity Lacrosse) and Lillie Teague (Varsity Softball) for earning DOW (Dutchmen of the Week) honors for April 11-24.
Tommy Tyksinski (Varsity Lacrosse)
Tommy was selected by the Times Union as "Athlete of the Week." Over a two week span, Tommy scored 22 goals and recorded 5 assists. He has helped the defending class A champions to a 6-2 record to start the spring 2022 campaign. Tommy always draws the opposing team's best defender yet continues to play at a very high level.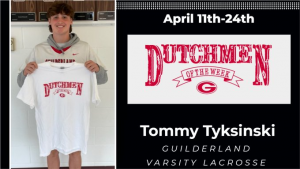 Lillie Teague (Varsity Softball)
Lillie helped lead the varsity softball team to a 3-1 record over the past two weeks.  In the circle, Lillie went 2-0, pitching a total of 16 innings, giving up only 10 hits and 4 earned runs,while striking out 16 batters.  At the plate, Lillie hit .385 with 5 hits, 4 runs scored and 5 RBI.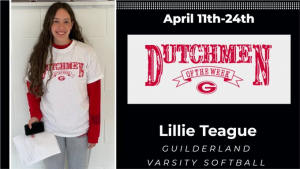 Dutchmen of the Week
Each week, we will highlight one male and one female student athlete (Modified, Mod 9, Frosh, JV or varsity level) for athletic accomplishments based on the following criteria.
The athlete should have made a significant impact to a contest within the nomination time frame, which is the week prior to selection; or
The athlete must have shown excellent leadership, sportsmanship, noticeable improvement/effort, community service and/or other notable trait(s).