In an effort to raise money for more inclusive playground equipment, Westmere Elementary is holding a sneaker fundraiser.
Partnering with GotSneakers, a sneaker recycling organization, Westmere will earn approximately $1 for every pair of sneakers accepted. This fundraising program is aimed towards the collection of wearable, reusable sneakers, athletic sneakers and athletic cleats.
The elementary school and organization kindly ask school community members to NOT send any non-athletic footwear, ALL sneakers and athletic cleats are welcome.
Collection bins can be found locally at the following locations:
Guilderland Town Hall
Guilderland Library
Farnsworth Middle School
Guilderland High School
Westmere Elementary
Pil Sung TaeKwonDo

Best Fitness (Fuller Rd)

Guilderland Martial Arts

Bone and Joint Center

Tendercare Child Center

Guilderland Pop Warner

M & T Bank

Slingerlands Price Chopper

Sports & Spinal Wellness Center

Pine Grove Methodist Church

Super Shoes (Northway Shopping Center)

Guilderland YMCA

Siena College's Marcelle Athletic Complex (MAC)

Thomas Nicola Physical Therapy

Tina Marie's Dance Studio
The Good Feet Store
Malta Fleet Fee
Ninja Lab
Orange Theory in Albany (*this location will resume collection in April)

Fleet Feet of Albany (Wolf Rd)
"Here at Westmere, we're all really excited about this as a way to raise some money for some new playground pieces, and while doing some good! We know that most people have extra shoes in their closet, and with a lot of fall sports starting up, students may be getting new shoes/sizes," said Westmere Elementary School Principal Beth Bini.
All footwear collected is counted and sorted at a GotSneakers regional facility. The shoes are categorized based on size, style and condition, and subsequently packed for distribution around the world, primarily to impoverished countries such as Bolivia, Chile, El Salvador, Ghana, Haiti, Honduras, Nicaragua, Panama and Ukraine.
---
Updated 9/23:  Read News Channel 13's coverage on the sneaker drive. 
---
From Macy's: Crossgates and Macy's (in Crossgates) have partnered with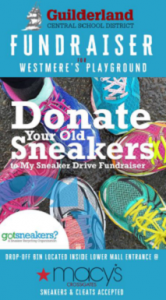 Westmere for the sneaker drive. Please consider dropping your old sneakers and cleats in the collection bin at Macy's mall entrance near the fragrance department on the lower level in Crossgates to help out this tremendous cause.
Direct message or share a picture on our social pages of your family doing a good deed by donating sneakers at any of the drop off locations in Guilderland, tag #crossgatesmall and #sneakersforwestmere through October 31, and some lucky winners will randomly be selected to receive a gift card to Macy's.  Check Crossgates out on Facebook, Instagram, and Twitter.