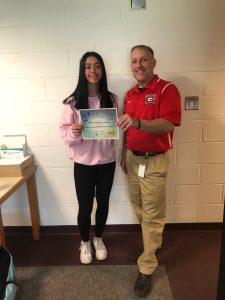 Trinity Kenney, a Guilderland High School senior, has received a New York State Senate Youth Leadership Recognition Award, which was presented by New York State Senator Michelle Hinchey.
Trinity is a passionate advocate for mental health awareness and fights to destigmatize the mental health issues so many face. For the past three years she has worked with the American Foundation for Suicide Prevention (AFSP), having raised more than $3,000 for the organization.
AFSP hosts Out of the Darkness Walks to give people the courage to open up about their connections to the cause as well as a platform to create a culture that's smarter about mental health. Trinity has put together four teams for Out of the Darkness Walks and has been honored every year she has participated. This year she assembled a team of 54 walkers, composed of many GHS students and student athletes; it was the largest team in the walk and raised the most money. Trinity has also had the honor of serving as spokesperson for AFSP, speaking on behalf of a best friend she lost to suicide in 2019.
Charitable work not new to Trinity. When she was younger, she and her siblings raised money through bottle and can drives for local children's charities including Jazzy Sun Birthdays, Maddie's Mark Foundation and Fostering Futures.
The New York State Senate Youth Leadership Recognition Awards program honors outstanding students who demonstrate exceptional leadership qualities in their school or community and who are striving to become future leaders.
Congratulations to Trinity on this much-deserved recognition!