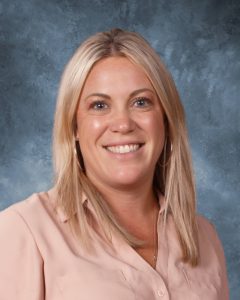 The Board of Education appointed Jacqulyn Vandenburgh as the permanent principal of Lynnwood Elementary School at their Mar. 29 meeting. She has been serving as interim principal since July 2021.
Ms. Vandenburgh joined the Guilderland Central School District in 2013 as a fifth grade teacher before becoming the math specialist. In this role she had the opportunity to work with all students and families at LES. She held this position for two years before being named the interim principal in July 2021. Prior to joining GCSD, Ms. Vandenburgh began her teaching career at a private school where she taught fourth grade for three years.
Born and raised in the Capital Region, Ms. Vandenburgh attended Siena College, studying English, and received a Bachelor of Arts degree with a minor in business administration. She earned two master's degrees from the College of Saint Rose; one in childhood education and one in special education, grades 1-6. Recently Ms. Vandenburgh completed her New York State School Building Leader certification and will be completing her New York State School District Leadership certification this summer.
Ms. Vandenburgh feels extremely proud to work for GCSD and to be part of a strong school community like Lynnwood's. The district wishes her well as she continues to lead LES!