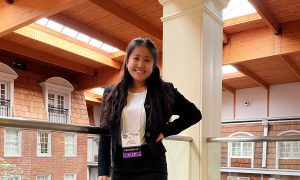 On Mar. 12, Guilderland High School junior, Kelly Nhan, was elected Key Club Division 16 Lieutenant Governor. As Lieutenant Governor, Kelly will represent and work closely with the leadership of Division 16 Key Clubs to carry out the district's policies and provide support to the component clubs. Division 16 is composed of approximately ten Capital Region high school Key Clubs; there are 26 Key Club divisions in New York state.
Kelly has participated in Key Club since her freshman year and was previously elected as GHS Key Club treasurer and president. In late March she attended the 74th annual Leadership Training Conference, where she was inducted as Lieutenant Governor of Division 16. Kelly is the fifth GHS student to be elected as a Lieutenant Governor.
Key Club is an international service organization for high school students. Self-governing and student-led, Key Club's goal is to encourage leadership through serving others. Key Club is the high school branch of Kiwanis International.
Kelly is very appreciative of this opportunity and wishes to thank GHS Key Club Advisor Mrs. Sebuyira and GHS Principal Mr. Piscitelli for their support.
Congratulations on this accomplishment, Kelly!