Congratulations to Jaden Smith (Junior Varsity Cheer) and Beth Irwin (Varsity Cross County Ski) for earning DOW (Dutchmen of the Week) honors for the week of Feb. 7.
Jaden Smith (Junior Varsity Cheer)
Jaden is a first year cheerleader. She is a fast learner and continues to improve each day. She comes to practice ready to learn new skills and improve on the skills she has already learned. Jaden is a good role model for her teammates and future cheerleaders. She was awarded the first trophy we were given this season for all of her hard work.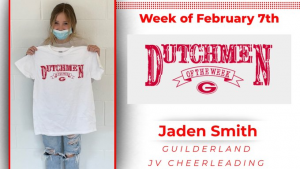 Beth Irwin (Cross County Ski)
Beth has been Guilderland's top racer all year. At the Glens Falls Invy on Feb. 1, Beth skied to a 11th place finish out of 44 racers. Beth skied the 10K course at the Gore Ski Bowl in 28:07. On top of the school cross country team, Beth competed at the Winter Empire State Games and motivated 10 other Guilderland skiers to join her for a weekend of races in Lake Placid where some of them won medals!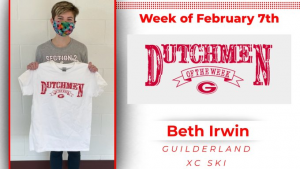 Dutchmen of the Week
Each week, we will highlight two student athletes (Modified, Mod 9, Frosh, JV or varsity level) for athletic accomplishments based on the following criteria:
The athlete should have made a significant impact on a contest within the nomination time frame, which is the week prior to selection; or
The athlete must have shown excellent leadership, sportsmanship, noticeable improvement/effort, community service and/or other notable trait(s).