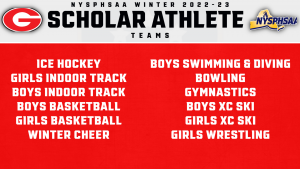 Twelve of the 13 Guilderland Central School District winter sports teams qualified for the New York State Public High School Athletic Association Scholar-Athlete Team Award. To earn this recognition, 75% of the team's roster must have an average grade point average (GPA) greater than or equal to 90.00. See the list of teams below.
In addition to scholar-athlete team recognition, a total of 131 Guilderland athletes qualitied as "Individual Scholar Athletes." To receive Individual Scholar-Athlete recognition, athletes must have a GPA of 90.00 or greater.
GCSD student-athletes are students first. Thank you to all of the teams, athletes and coaches for prioritizing academics and congratulations on these accomplishments!
Ice Hockey
Girls Indoor Track
Boys Indoor Track
Boys Basketball
Girls Basketball
Winter Cheer
Boys Swimming and Diving
Bowling
Gymnastics
Boys Cross Country Ski
Girls Cross Country Ski
Girls Wrestling