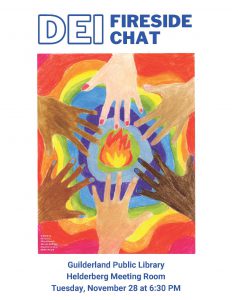 The DEI Engagement Committee is once again holding "fireside chats" at the Guilderland Public Library, with the next chat scheduled for Tuesday, Nov. 28, 6:30 p.m., in the library's Helderberg Meeting Room. The purpose of these forums is to provide Guilderland community members with the opportunity to participate in discussions centered around DEI. Residents can ask questions, discuss personal experiences, speak to members of the committee and learn more about the district's DEI work, in an informal, relaxed setting.
To help promote these events, during the last school year a group of eighth grade Farnsworth Middle School students in Mrs. Romano's Accelerated Studio in Art class volunteered to create artwork to be used for flyers. Students were asked to visually illustrate what DEI means to them. Working individually or collaboratively with other students in the class, the artwork was completed in less than three days.
The artwork pictured above and used in the attached flyer was created by Daniel Cha, Elliana Famodu, Akshara Karthigan, Riyaa Ramanathan and Markos Royall. Thank you to these students for supporting the work of the DEI committee with their artistic talents.