Each month, the art teachers from Altamont Elementary, Guilderland Elementary, Lynnwood Elementary and Westmere Elementary highlight students who have demonstrated they are practicing Studio Habits of Mind. These eight habits – develop craft, engage and persist, envision, express, observe, reflect, stretch and explore, and understand art worlds – encourage and enable students to be more mindful during the creative process. This is not a contest; the Young Artist of the Month accomplishment acknowledges specific learning and critical thinking that happens in the art room, in relation to Studio Habits of Mind. The students' pictures and statements are framed and hung in the schools' entryways.
Altamont Elementary: Claire Tashjian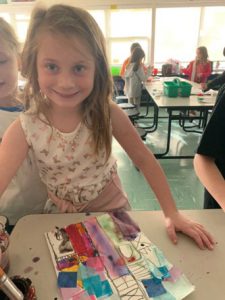 This month's artist of the month is Claire Tashjian in Mrs. Mayo's second grade class. Claire has been recognized for exhibiting the studio habit: stretch and explore. Claire is always thinking outside the box and isn't afraid to let her artwork change as explores new art making techniques. Claire is a role model student who is always on task and ready to learn. Excellent job Claire!
Guilderland Elementary: Ethan Pellgrini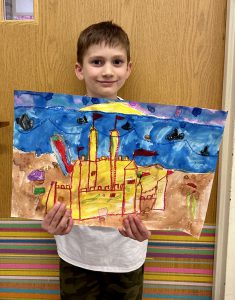 The March featured artist is Ethan Pellgrini. Ethan is in Ms. Sheridan's first grade class. Ethan has demonstrated the Artist Habit of Mind – Engage and Persist. This means he has been learning to embrace important artistic problems and develop focus within his work. Ethan has been working hard in the art room and his work reflects that focus and hard work. He has shown effort in art to follow directions and experiment with the ideas discussed in class. Persistence is important when making artwork. Sometimes we need to keep trying or persist even when it seems hard and Ethan has been doing just that. Way to go Ethan. Congratulations!
Lynnwood Elementary: Nolan McGaughnea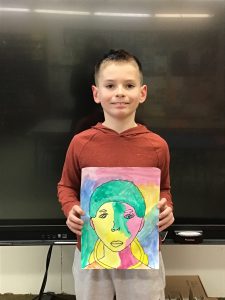 The March featured artist is Nolan McGaughnea. Nolan is in Mrs. Paige's third grade class. Nolan has demonstrated the Artist Habit of Mind – EXPRESS in art. That means he is learning to create works that convey an idea, a feeling or meaning. In art Nolan is thoughtful about his work. He strives to do his best and is always working to apply what he has learned in class. Our latest art unit involved painting a self-portrait with expressive colors that helped to convey our personalities. Nolan's artwork captures not only a likeness but also a sense of who he is through his use of color and line. Keep up the good work Nolan. Congratulations.
Westmere Elementary: Jace Barrett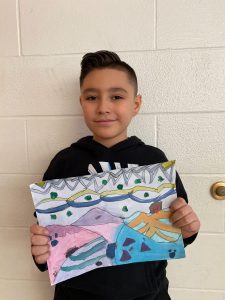 This month's featured young artist is Jace Barrett. Jace is in Mrs. Mau's third grade class. He has demonstrated the Studio Habit of Mind: Developing Craft. Jace used different tools to make this landscape – such as a flat brush and a round brush. He also mixed his own colors on his paint palette. Check out that good craftsmanship. Excellent job, Jace!