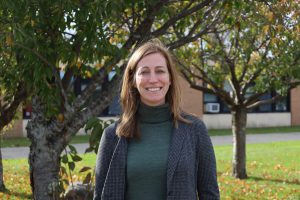 The Guilderland Central School District is excited to announce Lauren Anderson has been promoted to Instructional Administrator for World Language and Cultures (WLC) and English as a New Language (ENL). Ms. Anderson was appointed by the Board of Education at the Oct. 17 meeting.
Ms. Anderson has been an integral part of the GCSD community since she first joined the district as a Guilderland High School French teacher in 2014. She has consistently demonstrated exceptional leadership skills, while simultaneously seeking new ways to help her students succeed.
Ms. Anderson brings "an awareness and appreciation of cultural diversity and the ability to foster an inclusive and supportive learning environment for GCSD students," to her new role. Her time will be mainly divided between Farnsworth Middle School and GHS athough Ms. Anderson plans on visiting every school, since there are ENL teachers in all seven buildings.
She's enthusiastic about upcoming initiatives, including the implementation of the New York State Seal of Biliteracy (NYSSB) program at GHS. "I'm so pleased with the new initiatives coming to the WLC and ENL departments, especially the NYS Seal of Biliteracy program. It is exciting to offer a new way to recognize and celebrate our multilingual learners," said Ms. Anderson. The Seal of Biliteracy identifies and acknowledges students at graduation who've attained a high level of proficiency in two or more world languages.
Prior to becoming the Instructional Administrator for World Language and Cultures (WLC) and English as a New Language (ENL), Ms. Anderson taught high school-level French. Her first teaching job was in the Schenectady City School District, where she remained until 2014.
That same year, Ms. Anderson accepted a position to teach French at Guilderland High School. She created a supportive classroom environment that fostered learning and acceptance. Her lessons were designed to meet the diverse needs of all learners and actively engage them in their education, something she plans on continuing to do in her new position, now on a larger scale.
In addition, Ms. Anderson's dedication to students often extended beyond her classroom; she mentored new teachers as a Teacher Leader, shared her ideas on course development with the curriculum committee and served on the Seal of Biliteracy Board for the World Language department.
Ms. Anderson continued to advocate for students when she became an administrative intern for Guilderland High School in 2021. She facilitated trainings to promote cultural competency amongst GHS students, collaborated with colleagues on the development of the high school master schedule, participated in several district and building-level committees, and pursued various professional growth opportunities.
Furthermore, Ms. Anderson's time as the Extended School Year Principal between 2022 and 2023 provided her with the chance to gain extensive leadership experience and support students district-wide. In addition to managing daily operations and overseeing students and staff, Ms. Anderson planned the extended school year program, established class lists and organized field trips.
With a wealth of experience and knowledge, Ms. Anderson is ready to make a difference in her new position. She looks forward to helping students in the district succeed as they explore the world's many languages and expanding learning opportunities for all.